Deep Cleansing Facial Treatment
Our deep cleansing facial treatment allows those of you who wish to treat yourself to some rejuvenation whilst being less invasive than other cosmetic treatments. That's why it's great for everyone and promotes the health of your skin, as well as relieving stress and ensuring you get self-care into your regime. See your skin glow!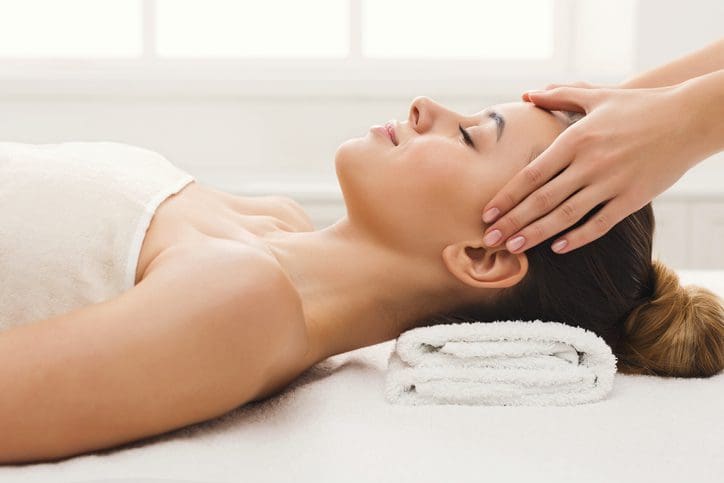 What Does a Deep Cleansing Facial Treatment Involve?
Skin analysis: Firstly, the aesthetician will assess your skin health and potentially carry out some preparatory measures to ensure the optimality of your procedure. They will advise you of their observations as a skincare professional.
Cleanse: Using cool water and a gentle naturally derived cleanser. To remove superficial impurities such as makeup, pollutants, the build-up of oil, and skin debris which can cause premature aging. Finished off with herbal waters specially selected for your skin type.
Steaming: Mild steam softens the skin and also opens pores so that a deep cleanse is possible. It increases oil production in the skin and softens trapped sebum.
Extraction: This is the process of cleaning pores and removing cellular debris in a safe and gentle manner.
Mask: Our 100% natural masks will illustrate the wonders of Pelotherapy within your deep cleansing facial. Your aesthetician will select a mud mask for you. Kaolin Clay improves blood circulation and is suitable for even the most sensitive skin types. Alternatively, we are lucky to have Hungarian Mud which remineralizes skin and has anti-inflammatory properties. After your mask has had time to work its wonders, cleaning is done with cool water and selected natural herbal waters.
Lymphatic massage & barrier feed: We apply our signature skin oil which is made up of avocado oil and beneficial essential oils. Various micronutrients nourish the skin, in addition, your aesthetician uses a special technique is to increase the removal of toxins.
Barrier protection: Finally, the application of SPF 50 protects your skin from the harmful effects of climate change. UVA and UVB are the non-visible parts of light and cause damage to the skin. Therefore to protect the skin it is essential to complete your facial treatment.
How regularly should I have a Deep Cleansing Facial?
We recommend having a course of sessions so that you can see the full extent of what can be achieved. We have the privilege of accessing high-quality natural resources, alongside the knowledge and skills of an aesthetic professional.
Indulgence and relaxation, our Deep Cleansing Facial Treatment is £45
If you would like to arrange a treatment, please feel free to text us on 07527 296 919 or contact us via our online form.