Radiofrequency Body Firming Treatment
We are pleased to offer radiofrequency body treatment, using technology that has been used in the medical field for over 40 years. From the age of 20 years, the production of collagen reduces, with the revolutionary radiofrequency body treatment you can enhance your confidence levels or simply treat yourself to some collagen stimulation. This non-invasive, non-surgical method of treatment has provided a method of repairing even the most sensitive skin types. The good news is that it can be carried out on every Fitzpatrick Skin type safely (in other words all ethnicities or melanin skin types can be treated).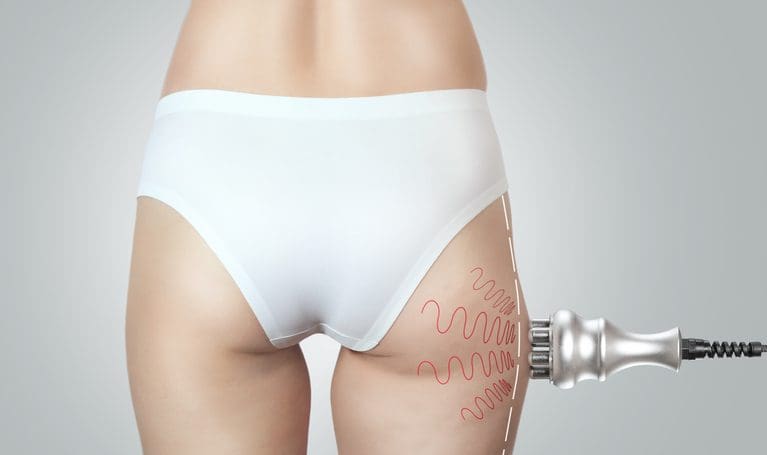 How does radiofrequency body treatment work?
Multipolar radiofrequency body treatment uses sound waves. It is a completely safe treatment as radio waves are present within the environment and we are exposed to them all the time. The waves are sent through a medium into the skin to stimulate fibroblast cells to deposit collagen fibres. Collagen fibres form the scaffold for our skin, by doing this the health of the skin in the treatment area also improves. The radiofrequency body treatment is quite relaxing and feels like a warm sensation, an exception to the no pain no gain terminology usually used in this industry. For more information on the science, please see our facial radiofrequency treatment information. Also, please have a look at more information on aftercare which is essential when having treatment from us.
What can I achieve with treatment?
The radiofrequency body treatment has been shown to improve:
Skin laxity improvement (firms and tightens skin).
Skin feels softer, more hydrated with vitality.
Improvement in skin tone and texture.
Diminishment of open pores for the weeks following treatment.
Repairs red stretch marks and some other superficial scarring that can appear on the skin.
What's the cost of a radiofrequency body treatment?
£80 for 1 A4 sized skin area. Prepay for 4 sessions 10% off (£288). Prepay for 8 sessions 20% off (£510).
£120 for 2 A4 sized skin areas. Prepay for 4 sessions 10% off (£432). Prepay for 8 sessions 20% off £770).
Note. We are unable to treat more than 2 A4 body areas at one visit. This is is to ensure the treatment is safe, effective and that optimal results are achieved within the treatment area.
If you would like to arrange a treatment, have any questions or queries, please do not hesitate to contact us.