Skin Clinic Offers
Firstly, we can appreciate that everyone wants a bargain and save what we can. However competitive, we aim to be ethical with our pricing and provide discounts where possible. Notwithstanding quailty, any time that a discount is applied.
April 2018 –  20% off Epionce skin peels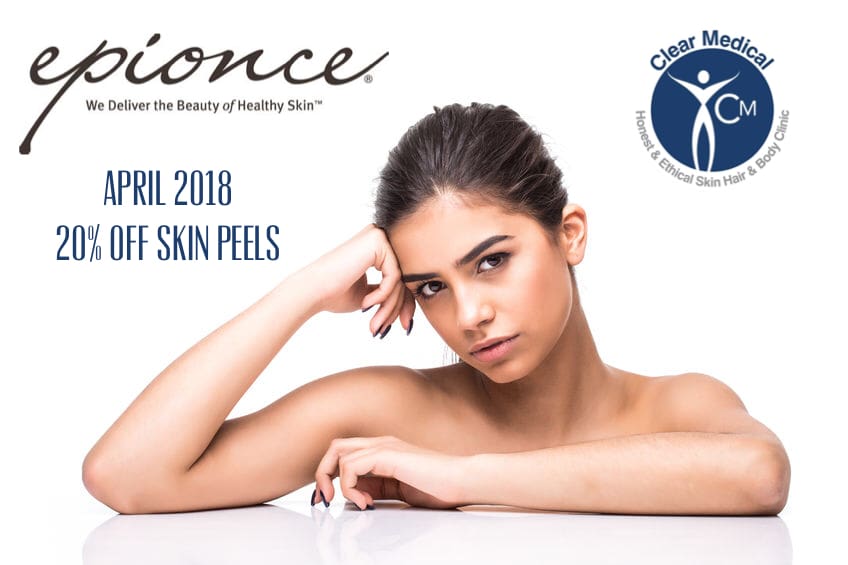 Available until 30th of April 2018. Must be paid in full prior to that.
Please see price list for prices and then deduct £20%.
The treatment can be carried out over face or body areas. Before considering, advice care and after care is required for treatment.
Confident skin is healthier and happier at Clear Medical

Please feel free to call the clinic on 0161 881 5672 or message us for more info.
Terms Of Offer
From the 6th through to the 30th of April 2018, when you pay for a Epionce skin peel treatment you will receive a discount of 20%. Treatments must be paid in full by the end of the trading day on the 30th of April 2018. The offer can not be used in conjunction with any other offer. Once paid for, the cost is non refundable but can be gifted to another individual of your choice.
Clear Medical skin clinic offers:
Treatments
10% discount for NHS staff and all those working in the Police and Fire service.
Also, multiple laser hair removal treatment area discounts are given dependant on health (not all individuals are suitable for treatment on multiple areas at the same time).
Undeniably pleasing is our 10% discount on 6 treatments which are paid for upfront.
Special offers and discounts to members of the affiliated sites listed. Please select the relevant link to see more information.

Offers valid for in clinic purchases or services only. We require proof of employment.
Products
In clinic we currently have free samples of our Organi SPF 50.
We have a Scrub Mitt (RRP £15), 15g of Hungarian Mud (RRP £5) and Shea Butter (RRP £7) for £15, whilst stocks last.
Additionally, we offer a 10% in clinic discount on purchase of 2 or more bottles of our 200ml Tone and Defence Formula Skin Oil. Please quote "skin clinic offer on website".
Payment Methods
We happily accept:
Cash
Credit or Debit Cards
American Express Cards
However, we do not accept payments by cheque.
Once in a while, we will have exclusive offers. Please check here for the most up to date offers.
Lastly, we want you to know, if it matters to you, it matters to us. Our natural and ethical skincare approach will give you the confidence you seek.
If you have any questions or queries, please do not hesitate to contact us.