Skin Clinic Special Offers
Firstly, we can appreciate that everyone wants a bargain and save what we can. However competitive, we aim to be ethical with our pricing and provide discounts where possible. Notwithstanding quality, any time that a discount is applied.  
May 2019 – T&D Skin Oil 250ml £20 (RRP £39.99) & 25% EXTRA FREE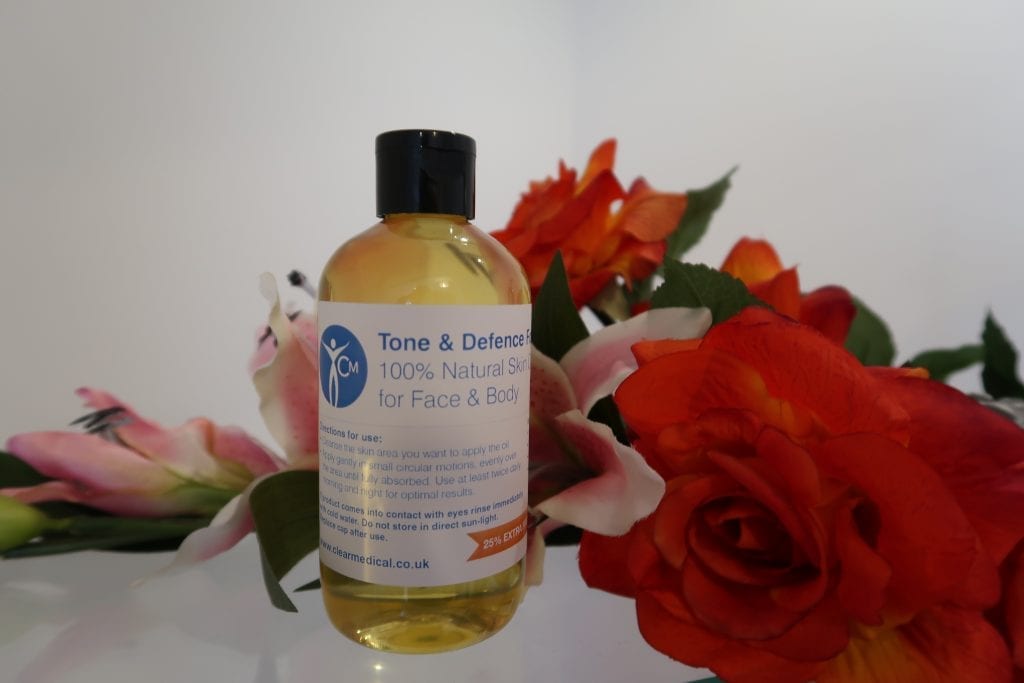 Our well-loved skin oil is on offer as its May. The time of year we remind ourselves to love and care for yourself and others.
After regular use of Tone & Defence Skin Oil, you will experience:–
100% Natural, brighter looking skin.
Rejuvenation, hydration, smooth fine lines and wrinkles.
Even skin tone and reduced pigmentation marks/redness.
Visible improvement in skin health.
Improves the appearance of stretch marks/skin damage.
Feel skin confident naturally – with the science behind your skin product!
A tiny amount goes a long way, due to its pure natural formulation.
Terms of offer:
Offer available from 1st to 10th May 2019 – only.
Products that are reserved at the sale price must be paid in full prior to the end of the offer (10 May 2019).
Offer available in clinic or online in our shop.
In cases where the products are not available due to stock, The sale price will be honoured 7 days after the product is back in stock.
Not to be used in conjunction with any other offer.
There is no limit to the offer per person.
If you have any questions about this offer, please feel free to either call the clinic on 0161 881 5672 or contact us online.
Treatment Offers – Always valid throughout the year
10% discount for NHS staff and all those working in the Police and Fire service. (Not to be used in conjunction with any other offer)
10% discount for individuals working in the M21 postcode area (Not to be used in conjunction with any other offer)
We are also happy to accept discount from the online app "USE". Please see app/website for terms of offer. (Not to be used in conjunction with any other offer)
Also, multiple laser hair removal treatment area discounts are given dependant on health (not all individuals are suitable for treatment on multiple areas at the same time).
Undeniably pleasing is our 10% discount on 6 treatments which are paid for upfront.
Special offers and discounts to members of the affiliated sites listed. Please select the relevant link to see more information.

Offers valid for in clinic purchases or services only (in some cases we may require proof of employment)
The discounts cannot be used in conjunction with any other special offer/discount.
Products
In clinic we currently have free samples of our Organi SPF 50.
We have a Scrub Mitt (RRP £15), 15g of Hungarian Mud (RRP £5) and Shea Butter (RRP £7) for £15, whilst stocks last.
Additionally, we offer a 10% in clinic discount on purchase of 2 or more bottles of our 200ml Tone and Defence Formula Skin Oil. Please quote "skin clinic offer on website".
Payment Methods
We happily accept:
Cash
Credit or Debit Cards
American Express Cards
However, we do not accept payments by cheque. Once in a while, we will have exclusive offers. Please check here for the most up to date offers. Also, please note that if you do not wish to receive any marketing from us, please let us know and we can remove you from our lists if you have previously signed up. We respect your right to choose what information you receive.  Lastly, we want you to know, if it matters to you, it matters to us. Our natural and ethical skincare approach will give you the confidence you seek. If you have any questions or queries, please do not hesitate to contact us.